Sound Transit is seeking public feedback on our 2022 Service Plan. Take the survey below by 11:59 p.m. on Aug. 22, attend the virtual open house on Aug. 11, email your feedback at servicechanges@soundtransit.org, or leave a comment by calling 1-866-940-4387. You can also sign up to give verbal comment at the virtual public hearing on Aug. 12.
What's the annual service plan?
At Sound Transit, we evaluate service performance annually and propose changes to improve performance, respond to ridership trends and use taxpayer resources efficiently.
We forecast many of these proposed changes through our annual planning process, but we need your input to help us hone and improve them.
We recognize that the past year has been extremely challenging. Transit agencies across the region, including Sound Transit, had to reduce service during the pandemic. As the region rebounds and we look ahead to next year, we invite you to learn more about the changes we are proposing to service in 2022. Your feedback on the 2022 Service Plan proposal will help shape what service looks like in the coming year.
What's on the horizon for 2022 service?
We're considering changes to ST Express bus and Sounder South as ridership is rebounding region-wide and as we continue to recover from the pandemic. We're responding to the increase with a focus on equity and are proposing increases to service where people need it most, specifically in South King and Pierce County, where ridership remained more resilient compared to other parts of the region.
In addition, 2022 will mark the Hilltop Tacoma Link Extension opening. This extension will provide new local connections from Tacoma Dome Station to major medical institutions in the Hilltop neighborhood.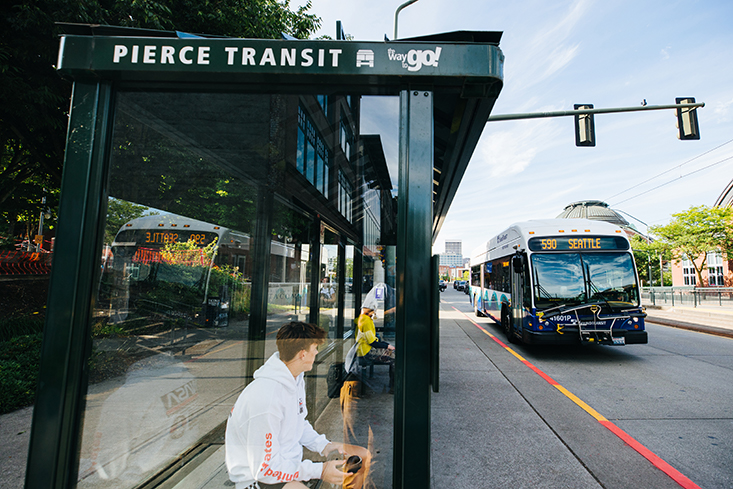 Tell us what you think by Aug. 22
2022 Service Plan proposal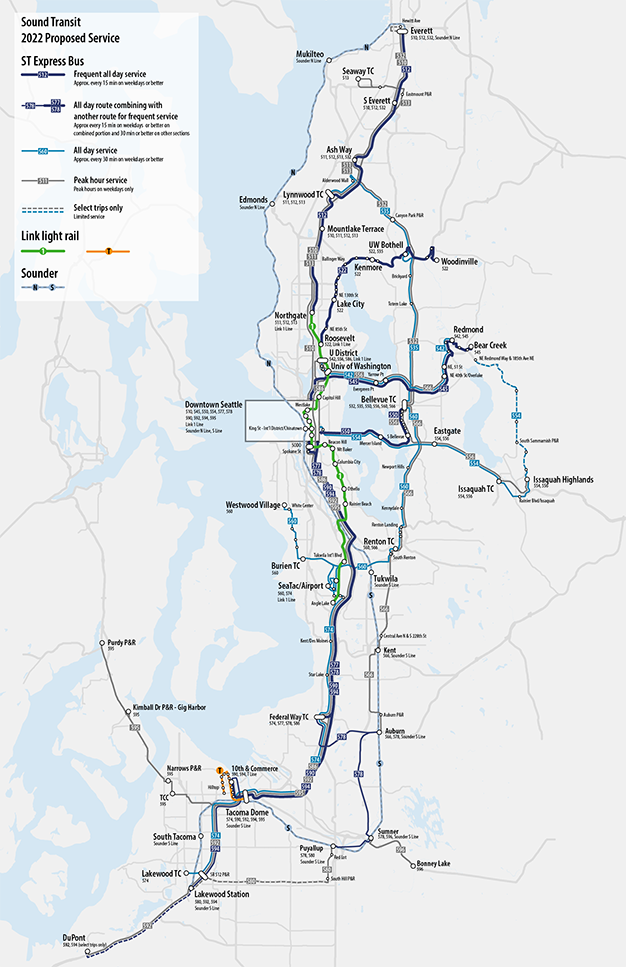 ST Express Changes
Sound Transit's bus service that connects regional hubs in Pierce, King and Snohomish counties.
Sounder South Changes
Sound Transit's commuter rail service operates between Lakewood and Seattle on weekdays.
Tacoma Link Changes
Tacoma's light rail service currently operates between the Tacoma Dome and the Theater District, with six new stations opening next year.
Title VI
As required by the Federal Transit Administration, Sound Transit evaluates major service changes to determine if proposed changes would have a discriminatory impact.
We'll complete a Title VI analysis as part of the 2022 Service Plan process. Learn more here.
Project timeline
May 2021
Community Based Organization (CBO) Briefings
July-August 2021
Public Comment period
Online Open House and survey
Virtual Open House on Aug. 11 at 6 p.m.
Virtual Public Hearing on Aug. 12 at 11 a.m.
August-September 2021
Review public input and revise the 2022 Service Plan
October 2021
Sound Transit Board adoption process
December 2021
Post final 2022 Service Plan